The timeless Cartier Tank celebrates its first centennial.
---
By Sara James Mnookin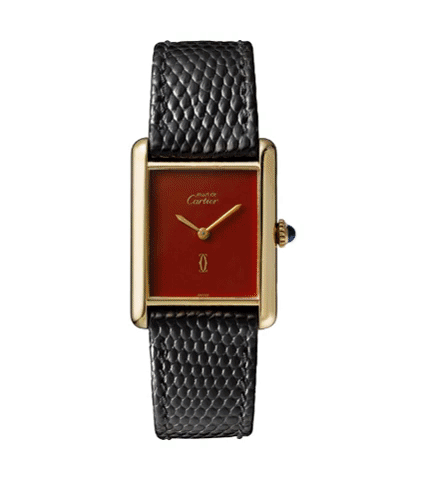 "I don't wear a Tank to tell the time . . . I wear a Tank because it's the watch to wear." – Andy Warhol
It was sleeker than the Santos, evoking an aerial view of the tank, with elongated brancards on either side of a square compact case—a design innovation that also solved a nagging dilemma in those early days of the wristwatch: how to join a flat band to a round face. "The majority of men's wristwatches during World War I were converted pocket watches," says Nate Borgelt, international senior specialist at Sotheby's. "The Tank, a design directly based on a machine for war, was masculine, made from the ground up to be worn on the wrist."
According to Cartier lore, the first Tank was offered to General John Pershing, commander of the American Expeditionary Forces (who would later rise to garner an unofficial six-star status as General of the Armies). Soon thereafter, Cartier placed six pieces in its stores, which sold out in record time.
"It was really the first high-profile celebrity watch," says Marion Fasel, founder and editorial director of the fine jewelry blog, The Adventurine, who points to the precise moment that cemented the Tank's iconic status, when "silent-film star Rudolph Valentino insisted on wearing it in The Son of the Sheik." Dubiously dressed in a turban and a wristwatch, Valentino may have made little narrative sense on screen, but he changed sartorial history, inspiring men from London to L.A. to shelve their pocket watches for good.
"Stars have been wearing the style ever since," Fasel adds. Its strong lines and formidable military credentials have indeed drawn a platoon of famous admirers—among them, Gary Cooper, Cary Grant, Marcello Mastroianni, Alain Delon, Frank Sinatra, and Warren Beatty. Truman Capote claimed to own no fewer than eight Tanks—enough to pull one off his wrist and give it to a passing journalist whose style he found lacking. Capote's friend Andy Warhol never even wound his, famously remarking, "I don't wear a Tank watch to tell the time… I wear a Tank watch because it's the watch to wear." Yves Saint Laurent evidently agreed.
So did many women. Greta Garbo, trailblazing androgyny, naturally wanted a Tank on her wrist. Sex bombs Brigitte Bardot and Elizabeth Taylor used it almost as a counterweight, to cool off their curves. Ingrid Bergman and Grace Kelly ensured the style became de rigueur for willowy WASPs throughout Europe and the U.S., while Jacqueline Kennedy Onassis carried the Tank trend well into the unisex-obsessed 1970s.
One of Jackie's beloved Tanks, a gift from her brother-in-law, Prince Stanislaw Radziwill, sold for a staggering $379,500 at Christie's in June. The anonymous buyer was said to be Kim Kardashian—a plausible theory, given how recently  the reality star had been robbed at gunpoint in Paris.
It seems that, for many women, the Tank has become a kind of armor. Recall Princess Diana's frequent appearances in her black-strapped Tank L.C. or yellow gold Tank Française in the years after her painful split from Prince Charles.
"It is neither too masculine nor too feminine," Fasel says. "The design is really the golden mean."
Such wide reach is hardly mere happenstance. The Tank not only pioneered watch design, but also its marketing, as one of the first styles to be sold by size rather than sex. Freed from traditional boundaries, many men found they preferred the trimmer lines of the smaller case, and a few ladies elected to size up. The Tank opened up new ground between genders, carving out space for vanguards to challenge fashion (and thus societal) norms—and all long before most of the world was ready to grapple with the concept of that sort of fluidity.
"If all tanks were made by Cartier, we'd have the time to live in peace." – Jean-Charles de Castelbajac
The De Stijl movement, also born in 1917, called for simplicity in design, isolating elements down to form and color. Cartier's Tank thus has its own specific vernacular—a crisp roman-numeral dial, blue-steel hands, and a sapphire cabochon crown, although the house has never shied away from tinkering with this formula. "The style has a very recognizable language, modified to keep it relevant and new," Borgelt says. By changing small aspects—size, angles, the way the crown is elongated or shortened, the colors of the stones and cabochons—Cartier prevented the classic from ever feeling quite done.
In 1921 alone, the face was stretched into the Tank Cintrée, which followed the natural curvature of the wrist, and the case lines were made to overlap the brancards for the luxe Tank Chinoise. An extra-flat version, the Tank Normale, arrived in 1964, and the bolder, sturdier Américaine, in 1988. Bucking the gritty minimalism of the '90s, the Tank Française flashed its shiny steel and gold bracelets, starting in 1996.
Today, Borgelt says the most collectible Tanks tend to be "any limited editions or vintage pieces, particularly from their London workshops or with European Watch and Clock Company movements."
To celebrate the style's 100th birthday, Cartier has released 13 new models in four of the Tank families: the Tank Louis Cartier, Française, Américaine and Cintrée. The dearest are a pair of Cintrée skeleton watches with mechanical movements and manual winding, in pink-gold and platinum, for $56,000 and $62,000 respectively.
Flammarion published a sumptuous new book, The Cartier Tank Watch, on November 14. In it, frequent collaborator Franco Cologni charts the Tank's evolution, reminding the world that, in the age of the Apple Watch, there is still only one definitive rectangular timepiece.
"Tanks will be with us as long as watches are worn," Borgelt predicts. And presumably that will be for at least a few more days.